Social Media / Social Community Web Site Design and Development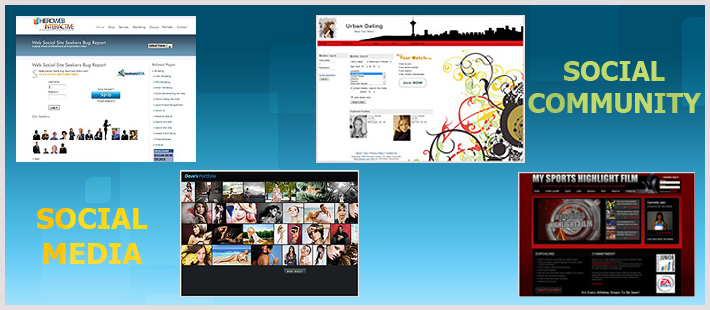 H
ieroweb Interactive can create your social media or social community web site. We can help your brand create this site that showcases your own self-expression. We can help your brand unite people around the interests that are important to you. At Hieroweb Interactive we embrace and empower the social community movement. Our designer and coders will help you unite people around your social interests, social topics and social movements. Let us help you bring your social community together.

At Hieroweb Interactive we will help you create a perfect social community web site that will bring people together. With your own branding and choice of social integration, we can help your brand create new avenues of revenue and social involvement. With our expertise you can create a profitable social media business plan that will excite your social community and keep them coming back.
So don't put off building your online community, contact Hieroweb Interactive today to discuss your social media design options. Call us at 805-582-2081 or fill out our free estimate form.

Here are some facts and information on current social media trends:
Social Media is it a Fad or Social Revolution?
With all of the excitement over Twitter, Google Wave, Bebo, digg, YouTube, Facebook, WikiPedia, and MySpace is this a fad or will we be seeing additional progress from these sites towards a new social revolution? That is a very good question. 96 % of all Generation Y belong to a social network. Social media is the #1 activity on the web and has surpassed porn. Social media has 50 million users and continues to gain market share. 80% of twitter usage is via a mobile phone. Many social media users consider email passé. Blog sites are at 200 million and growing. Social media has now created a whole new search industry: realtime search. 78% of consumers trust peer recommendations, and only 14% trust advertisements. 35% of book sales on Amazon are for the Kindle. Newspapers are experiencing record declines in circulation. Social media is not a fad it is a paradigm shift!
Does Social Media have a Future?
In the past few years we have witnessed the explosive growth of social media. In the tough economic times that we face now on a daily basis the evolution of social media as a free platform has helped individuals and companies establish social media customer service strategies, and social media customer relationships. Social media has become a viable marketing vehicle. Social media provides a means for receiving immediate feedback which can help in evaluating your business concept or strategy.
The future social media platform will incorporate analytics, TV integration, and location based interaction. One of the companies slated to take off this year is Foursquare which is a location based social media application.
From a users standpoint this is a fun time in computing. It is important though that social media developers take the time to introduce a platform that will not go through major changes when growing. For example I believe that Twitter made a major mistake in rolling out their retweet function one way and then when it became popular they revised and redid its functionality. Things should change and develop over time but it is my opinion that your core functionality should pretty much stay the same. That's where good usability testing early on should correct issues that arise.
To discuss your Web Marketing / SEO / Search Engine Optimization needs use our contact form or call us at 805-582-2081.