Custom Digital Flip Books
I
nteractive digital flip books can be created in a number of ways.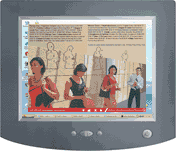 They can be script based, Flash based or software based. If they are software based then you will also need a browser plug in to make it work correctly.
Digital flip books are 3d page turning interactive ebooks, photo albums digital blog's, ecards, diaries or resumes that the viewer can see and turn much like a book.
Software Flip Book Design
W
e offer you a software solution that you can purchase and download to make your own custom interactive flip books.
This software is PC based and will allow you to create your own interactive digital flip book.
Below are some examples of the types of files that you can create with this software. First you will need to download the DNL Reader in order to view these files.
>>> Websites starting at $799 <<<

Contact us today by Email, or by our free estimate form or by phone at 805-582-2081.
Top
Interactive Digital Flip Book Examples
If you would like Hieroweb Interactive to create a professional flip book solution for you contact us at 805-582-2081 or by filling out our free estimate form.
FLIPBOARD
Style Flip Book
HTML5
Style Flip Book
FLASH
Based Flip Book Examples
Please leave us a comment or ask a question below:
comments powered by