Email Marketing or Email Blast Marketing
E
mail marketing or email blast marketing involves direct marketing using electronic email to target a specific demographic group. Email marketing campaigns can be tracked by capturing open and click rates to see how the campaign is doing. In order to engage in email marketing the list that is used must be an opt-in email list. At Hieroweb Interactive we use either single opt-in or double opt-in lists. Customers who opt-in state that they are willing to receive information based on likes, categories, or regional information to name a few. They opt-in at many different portals and shopping sites on the internet today. Our lists are fresh and are updated monthly.

>>> Websites starting at $799 <<<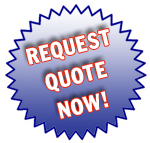 To receive a free quote on using our email marketing services click the button to the right and fill out our short form to receive your quote. Please allow 24 hours to receive your quote.
As far as email marketing is concerned, opt-in email marketing is cheaper, faster and more cost effective than any other current email marketing method. There is more and more proof that supports this, which is not news at all to those who have been using email marketing over the past few years. Email marketing allows you to target an audience/demographic that is engaged and ready to read your message and react immediately.

The CAN-SPAM Act of 2003 authorizes a US $16,000 penalty per violation for spamming each individual recipient. Therefore, many commercial email marketers within the United States utilize a service or special software to ensure compliance with the Act. A variety of older systems exist that do not ensure compliance with the Act. To comply with the Act's regulation of commercial email, services typically require users to authenticate their return address and include a valid physical address, provide a one-click unsubscribe feature, and prohibit importing lists of purchased addresses that may not have given valid permission.
Self Service Email Marketing
If you have your own opt-in email list and want to target to your own list then we have a few options for you. Below are two of our partner sites that offer you the ability to target to your dempgraphic yourself. In a matter of hour you can send your marketing piece to your own list.
1.) Follow the link below to create your own marketing campaign:
2.) Another means to use to create your own marketing campaign:
Additionally if you need help setting up these accounts we are available at an hourly rate of $60.
To discuss your email marketing needs use our free email marketing form or call us at 805-582-2081. Top